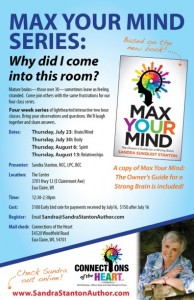 Why did I come into this room? If you've ever asked yourself this question, we'd like you to join us at the Center-Eau Claire for a combination book signing/brain chat on Sunday, July 19.
Our four session class series will follow on Thursdays from 12:30-2:30 pm, beginning July 23 to Aug 13. We will laugh, learn and try out activities that have helped others "Fight the Fade" and "Bless the Boost", celebrating the mental skills that improve with age. !
A copy of Max Your Mind: The Owner's Guide for a Strong Brain is included
Register by emailing Sandra@SandraStantonAuthor.com. Your reply will include the address to send payment.
Cost: $100 for Early Bird payments received by July 16. After that date, the cost will be $150.