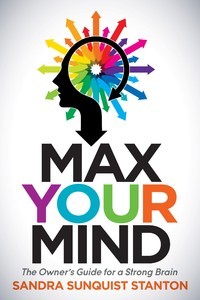 Books like Ken Follett's Pillars of the Earth and Jean Auel's Earth's Children series put me in awe of the writing process. How could anyone actually research and turn all that information into a gripping story? I doubted that I would be able to tackle such a project, but I truly wanted to accept the challenge.
Over the years, nonfiction and the complicated world of neuroscience caught my attention. I had been fascinated with how the brain works since Junior High when my brain carried my friends with me during our family's move to Cumberland, Wisconsin. I found many answers and tried to explain the brain in clear terms people could understand. My search led through education, counseling, and coaching.  My first attempt to explain the answers in print became a series of eight articles "Dr. Brain's Basic Eight Things Every Brain Needs: Security, Play and Exploration, Music and Movement, Interaction, Touch, Good Food, Reading and Language, and Rest and Sleep "  for Eau Claire's Leader Telegram beginning during Brain Awareness month in 2005. I had become a member of the collaborative BRAIN Team (Brain Research Awareness Integration Network) when it formed through the Wisconsin Council for Children and Families in 1999. This was my chance to download some of the accumulated information to parents and others who could use it. Building Baby's Brain classes for prenatal to toddler parents, Music, and the Brain:  an interactive class for parents and toddlers gave me face-to-face opportunities to teach about my favorite subject.
That series was on its way to become a book to accompany St. Mary's Press' Breakthrough Bible in 2006, until their marketing team made the decision that it wouldn't sell. I kept trying with other conferences and publishers because I sensed a promise that God would use my work and finish the project in His time-not mine.  I had gone to several writers' and speakers' conferences, each one resulting in invitations to send the book proposal to publishers, each of whom eventually rejected it. Maybe the children's Picture Book series based on my developmental guidance classes was a better plan.  I joined the Society of Children's Book Writers' and Illustrators group and attended national conferences working to hone those skills. I learned the most from my gifted SCBWI critique group and our weekly work together.
Who knew God could work through Twitter?  In January 2014, W. Terry Whalin of Morgan James tweeted me back to work on Max Your Mind. I replied thanking him for his Book Proposals That Sell which gave me tips to improve my work through six rejections. Our online conversation continued, and he asked about my "Brain Book" which I had shared with him at one of those early conferences. Long story short, he encouraged me to submit the project to him, and to come to Author 101 University in March of 2014 at LAX. As I was packing for the conference, he called to let me know Morgan James was offering me a contract to publish the book with them.
This was the beginning of a complete rewrite with the help of Amanda Rooker, my gifted editor who cared as much as I did about sharing this information with readers. We wanted to reach people over 30 who had experienced frustrations with declining brain function. At the conference, I met Amanda and the Executive Team of Morgan James, and found that they shared my vision for the project.
Each writing day began with God's marching orders at 5:00 AM.  The ten-hour days for ten months including weekends were extremely intense. I "finished" probably five times. My husband–and I– wondered how many times our finishing celebrations would only lead to more revisions.
On April 20, 2015, 500 copies of Max Your Mind: The Owner's Guide for a Strong Brain arrived, the baby was born! The writing deadlines were over, but marketing is an entirely different kind of busy! Many more deadlines, contacts and arrangements needed for signings, promotional articles and campaigns, local book release parties and a book tour.  As a newbie, I learned much more than I signed up for, mostly by making mistakes. But, I'm very thankful for the journey.
Today being Thanksgiving, I'm filled with gratitude. The thrill of readers letting me know about something that helped them manage their health or adding helpful habits of laughter, breathing meditation, time in relationship, gratitude or exercise give me wonderful waves of thanks.
My business is Connections of the Heart, LLC, which means that I appreciate connections with real people, an antidote to the solitary times at my computer. I would love to hear from readers, and I am open to coming to you either personally for a presentation or online webinar (to be developed) or coaching by phone. Brain Coaching is my focus, and I offer Max Your Mind as a taste of my work to help people make the most of their lives through understanding and enjoying basic neuroscience. Thanks for taking the time to read this blog!