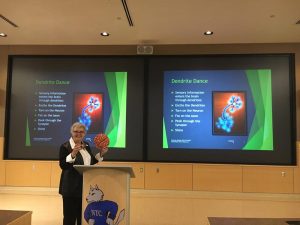 Thank you for your interest in bringing information about the impact of the brain and how it works to your group. This document is intended to provide a summary of pertinent information and suggestions for event planners in response to your inquiries about my coming to be part of your event. Your request is much appreciated! Virtually anything below is negotiable, so if something isn't possible, please don't be scared away; I'm happy to discuss details.
Sandra Sunquist Stanton
715-878-4867
Sandra@SandraStantonAuthor.com
---
Reimbursement
I request reimbursement of reasonable travel expenses to include, if needed:
Mileage for car travel
Hotel
Meals
Airfare
Taxis, parking, etc.
Reimbursement may be included with speaking fees (below)
Speaking Fees / Honoraria
My speaking fee is typically $1250 for a day of presentations, or $350/hour.
This is negotiable and I will work with your budgetary capabilities. I do not want the fee to create a barrier to my coming. I definitely want to help people build their brain literacy and better support for the people in their worlds.
Audiovisual & Room Requirements
My presentations are interactive rather than lecture, but I will include a PowerPoint as an organizational format. I travel with my own pc laptop, and will have the presentation on a flash drive. I would appreciate talking with your audio-visual staff prior to the event if possible to prevent last minute surprises. I will be able to output HTMI.
Depending on the room's size and equipment access, I will be prepared to use my own data projector (which needs about 10' separation from the screen) or connect to yours. If screens are not easily visible to me while presenting, a confidence monitor is helpful.
I ask that you provide cabling and extension cords as needed. A presentation table at the front of the room will be appreciated to display reference books and my interactive "toys" to be used during the presentation.
A lavaliere microphone would be great if possible.
Other Information
Thank you for arranging an opportunity for me to make Max Your Mind: The Owner's Guide for a Strong Brain available for purchase by your audience members. I'll need a table and chair for that purpose,

All checks should be sent to me at:
Sandra Stanton
Connections of the Heart LLC
E4520 Woodfield Road
Eau Claire, WI 54701